Efling invites the union members to take part in Efling Christmas Bingo, which will be live on Efling Facebook page on Wednesday, 9 December, at 7 p.m.
Unfortunately, due to epidemic restrictions, it is not possible to invite to the Efling Christmas Ball this year.  Instead, we invite you to Efling Christmas Bingo with great prizes and good entertainment.The event will be hosted by the one and only Saga Garðarsdóttir, actress and stand-up comedian.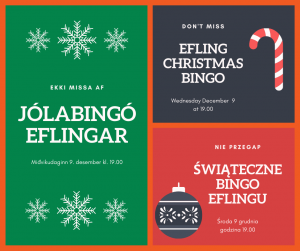 The main prize cannot be complained about – 100.000 kr. money prize. Additionally, the players can win 30 smaller (money and gift) prizes.Saga leads participants through the game, both Icelandic or English speaking, with her renowned wit and enthusiasm.Sólveig Anna Jónsdóttir, the chairwoman of Efling, will join Saga in the live stream to present an additional special prize.Efling members are encouraged not to miss out on bingo. Access is simple, a link will appear on Efling's website and Facebook page on Wednesday and you can click on it to participate. Each participant can have two bingo cards.We recommend that participants have two screens available, one screen to watch the live stream and the other to watch their bingo card (the game is suitable for most smartphones, tablets and computers).Stay tuned for this event on Wednesday!*The bingo is for all Efling union members, the prizes will only be awarded to members, but their family can also help and assist with the game and take part in the entertainment.